Visit St John's Facebook page!
Website last updated
31st OCTOBER
2019

Click on the link below
for our Preschool's
own (new) website
Registered Charity No. 1178660
FOR PARENTS AND CHILDREN
KIDS' CAFÉ
EVERY WEDNESDAY AFTER SCHOOL
DURING TERM TIME
Our Lady of Walsingham
A Lamp burns daily at
Our Lady of Walsingham
This lamp is lit for
special prayer intentions
If you would like the lamp lit for a special
occasion, anniversary, a departed loved one or any other request, please add the request to the list by the north door and place
a donation in the candle box.
Suggested donation £3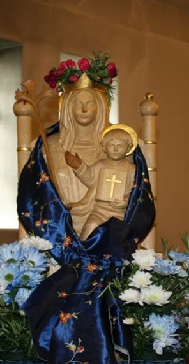 REMEMBERING IN NOVEMBER
Friday November 1st ALL SAINTS' Sung Mass at 11am
Saturday November 2nd ALL SOULS' Sung Mass at 11 am
Next month:
forthcoming event..