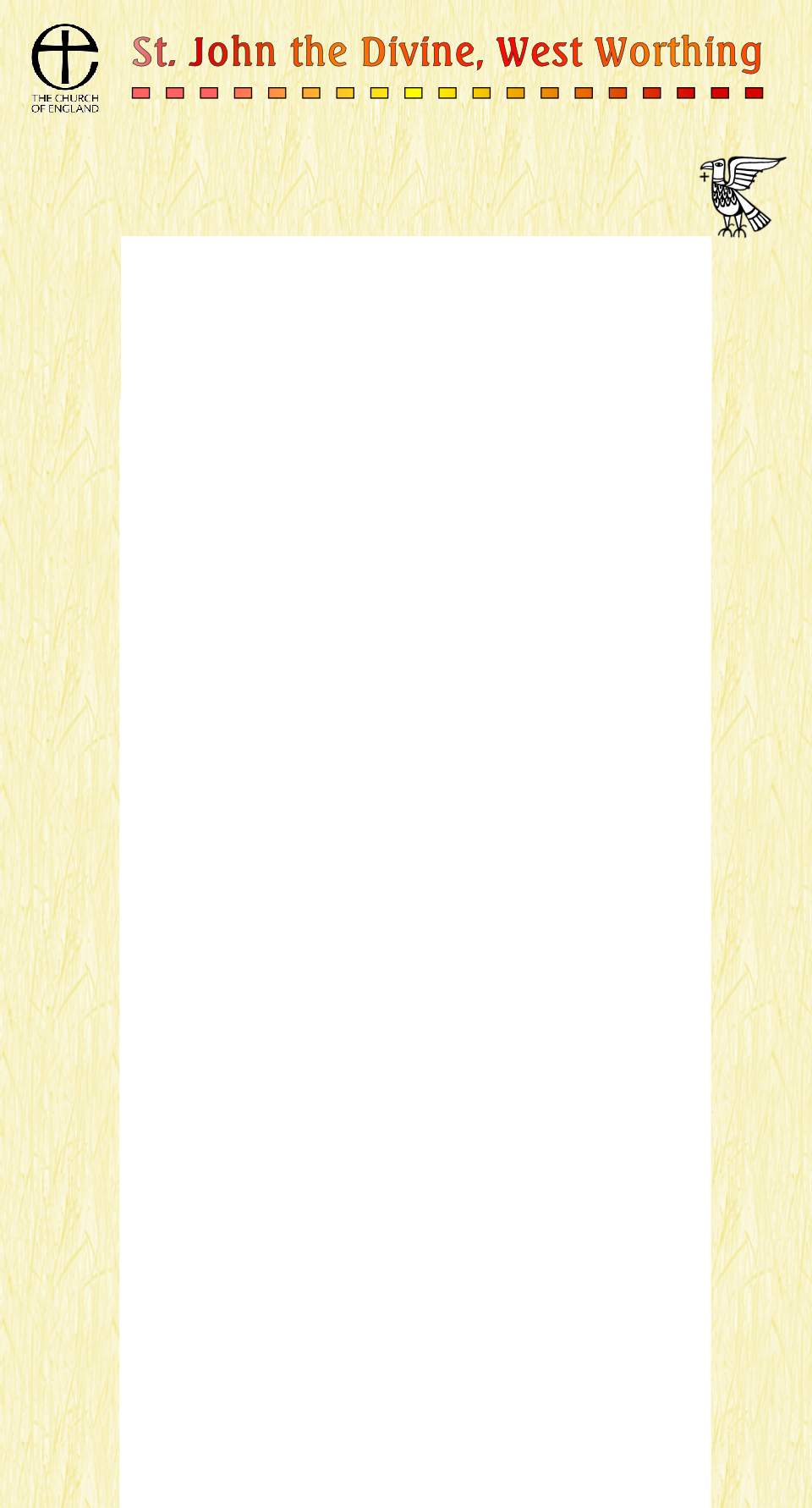 Visit St John's Facebook page!
Website last updated
1st DECEMBER
2019

Click on the link below
for our Preschool's
own (new) website
Registered Charity No. 1178660
December 2019
Dear Friends,
Getting Ready!
Despite the diminishing shopping days to Christmas, the countdown to the Election and all that follows on from that, the Church seems oblivious to the pressure! Is this another example of how irrelevant it is? No, it's a sign that they've got their priorities right! December 1st is also the first day of Advent which is the season when the church looks forward to the return of Jesus. Martin Luther, the man who started the Reformation, said that a Christian should live as if "Christ had died yesterday and will return tomorrow". The trouble is that he didn't die yesterday, but might return tomorrow – and that would be a shock.
The whole climate change debate reminds us how badly we have used our stewardship of the resources that God has given us, and how our failures might bring about the end of the World. But each year the Church has reminded us that we will have to give an account of our lives and actions to the one who gave us all these opportunities in the first place. The idea that Christ will return to judge, is based on his own words when he came to share our lives for the first 􀀯me. That, of course, is what we will celebrate at Christmas. But think; that seemingly insignificant and vulnerable baby, born in a strange town as a result of the upheaval caused by the uncaring taxation systems, in a less than sanitary stable, shows us the love of God in action because he knows how wrong we can get things. There is no demand for power, seeking to curry favour for immediate glory, but a challenge to our faith and trust by one who will say "I am among you as one who serves."
In this magazine there are invitations to the various activities by which we prepare to greet the Christ who turns upside down the priorities of the world around us. Through them let us "prepare the way of the Lord" so that we can "come and adore Him". The Family of God at St John's looks forward to sharing these events with you.
Fr Beau
Monthly letter from the magazine.
All Saints Day
Sung Mass at 11 am
All Souls Day
Sung Mass at 11 am